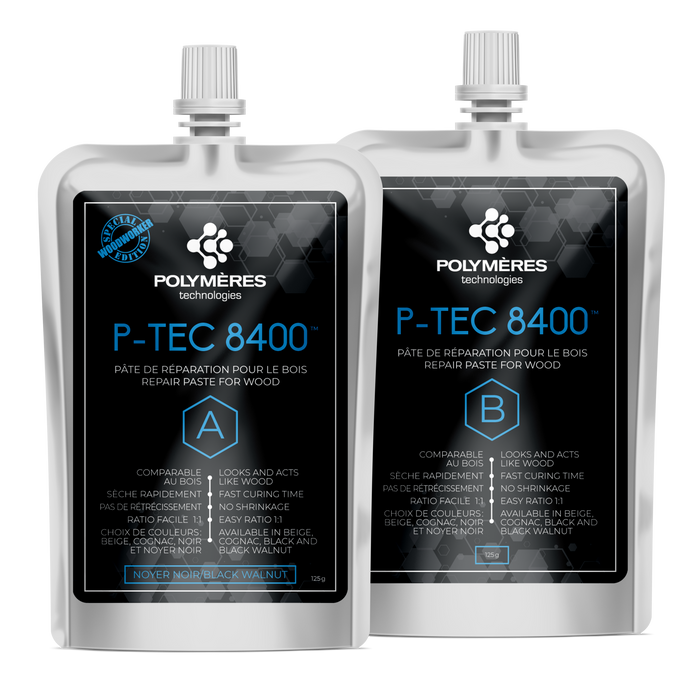 P-TEC 8400 POLYURETHANE WOOD REPAIR AND FILLING PASTE
Sold out
Original price
$38.00
-
Original price
$78.00
DESCRIPTION
P-TEC 8400™ is a 100% solid, thixotropic and low density polyurethane repair paste for the repairing of wood. This product is used for fast repairing of CNC machined molds or prototypes made out from polyurethane boards or wood which show fissures, voids or any defects to the surface. The P-TEC 8400™ can also be of good help to repair damaged edges and design modification.
P-TEC 8400™ is a High Performance Wood Filler ideal to repair damaged  wood, fill cracks, voids or stabilize rotten wood. It can also be used to fill knots and split, damaged or rotten exterior or interior lumber. It is resistant to extreme weather. This product can also be used as an adhesive to structurally assemble polyurethane boards and wooden panels among others including ceramic, concrete, metal and fiberglass. Available in different colors to fit your favorite wood essence.
CHARACTERISTICS

Easy mixing ratio of 1A/1B volume
Food Safe, VOC Free
No shrinkage
No odor
Can be drilled, planed, carved and screwed.
Fast and easy sanding process
Fast setting time of 18 minutes at 22°C.
Excellent thermal and dimensional stabilities
Compatible with many surface coatings
Excellent adhesive for many substrate
APPLICATIONS
Both parts must be thoroughly mixed according to the mixing ratio indicated on this TDS -Technical data sheet.
Before use, check that the support is free of any dust, grease or pollution.
During processing, pot life and time before sanding may vary depending on the ambient temperature.
The exothermic that will develop during hardening varies with the thickness of product applied, up to a maximal value  of 79ºC (174ºF)
Dual Part Component Applicator is required for 400mL cartridges
Advice: Test is necessary when using painting in order to verify compatibility between the putty and the primer. A VOC FREE finishing product is recommended to use with the P-TEC 8400.