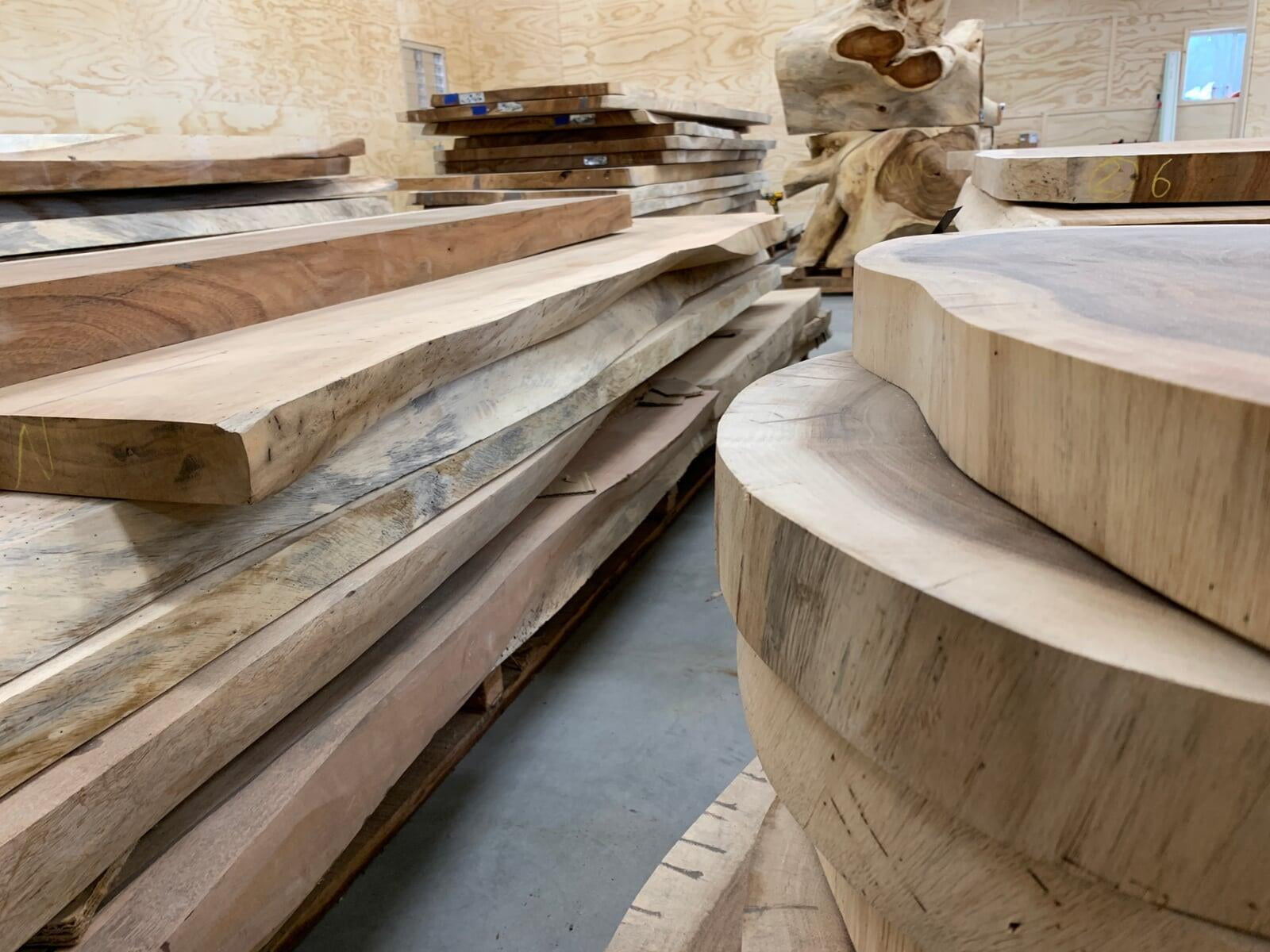 16 Unique Ways to Use Live Edge Slabs and Crosscuts (Part One)
Using Live Edge Slabs and Crosscuts In Your Home
Wood slabs are often used as countertops or dining tables, giving a space a touch of nature and great character. Live edge slabs are especially popular because they can really make a room feel alive. There are a lot of other ways to liven up a room using live edge slabs and crosscuts. Adding wood to a space, especially exotic live edge slabs and crosscuts, is a great conversation starter. 
These completely unique uses of wood slabs prove that there are tons of ways to add the rustic charm, that wood provides, to any room. Whether an exotic wood slab or domestic, these creative ideas are beautiful touches to a room or home.
In next week's blogs we'll share eight additional ideas for using live edge slabs and crosscuts in your home. Keep an eye out for that post and comment below if you have any other ways uses of wood in decor, that you'd like to see mentioned!
1) Wine Rack
Using a live edge slab to display your wine collection, and keep it readily accessible, is a great way to add a bit of exotic wood to your home. This would look great in a kitchen, dining room, family room, or butlers pantry and is perfect for keeping your wine on hand without it being an eyesore. This can be accomplished in a number of ways but can be easily achieved with just a few additional pieces from your local hardware store, once you've selected your desired piece of wood. 
2) Wood Countertops
Nothing matches the warmth and beauty of natural wood countertops. While butcher block wood countertops are common, wide wood planks and natural live edge wood slabs have grown in popularity. It is easy to understand why, with rich color tones, knots, and complex wood grain patterns. These countertops look great with a multitude of different stone, and backsplash options and make cabinetry stand out as well. 
3) Wooden Stool
A small crosscut makes a great top for a stool, and can be placed on metal or iron legs to give the rustic wood a modern base for a subtle juxtaposition. When not in use as a stool, this makes the perfect small end table, or can be used as a place to display a pile of your favorite books.                                                                                                                                
4) Hanging Bedside Table
A completely unique and clever way to use a small live edge slab or narrow crosscut piece of wood is to hang the wood from the ceiling and use as a bedside table. This is perfect for small spaces, or even apartments, as it still leaves floor space open. This provides a great place to set a book down before bed, or a glass of water, and adds another small surface to display decor. This unique touch is sure to be the focal point of any bedroom! 
5) Bathroom Sink
While this idea definitely takes some solid craftsmanship and the appropriate tools, it is another great way to add a touch of nature to a space. A live edge slab can be hollowed out slightly creating a bowl to use as a sink. This is not your typical DIY project and will take the right person to do the job, but once you have your perfect live edge slab picked out, anything is possible. 
Use this in a guest bathroom and stun your guests. They'll most likely never have seen anything quite like it! 
6) TV Stand
This project can be accomplished in a number of ways and is a great way to display the beautiful edges of a live edge slab piece of wood. Whether you use one slab and iron legs, two slabs with space for speakers in between (like pictured), or a slab attached straight to the wall, you'll have a unique piece of furniture that stands out. It may be difficult to keep your eyes on the television with this stunning wood supporting it, but we digress.  
7) Bench
While many benches are made from wood, few utilize exotic live edge slabs to make them stand out. This is perfect for a patio, garden, yard, or outdoor play area, providing you with a space to sit and enjoy nature. Or, bring a bit of nature inside and use a live edge slab bench in your home. You can't go wrong with this one! 
8) Sliding Door
Sliding barn doors have been quite the trend over the past couple of years. Why not use a live edge slab as a sliding door? This is a great option to save on space, as a sliding door doesn't open into a room, and it adds a focal point to any space. This is sure to be a conversation starter in your home and is a great way to provide the option to close off a space, while also adding to the design and style of your home. 
C3 Forest Products 
The first step to adding any of these beautiful design elements to your home is choosing the wood you'd like to work with. Check out our wide range of exotic live edge slabs and crosscuts to get started! Happy designing!